Ecodesign and product innovation with SimaPro
Over 80% of a product's environmental impact is determined during product development. To drive sustainable change, it's crucial to have access to environmental insights during this stage.
Product design with sustainability in mind
The best time to improve the environmental impact of your product is during the design phase. To allow product designers to make decisions that improve sustainability, they need clear, factual insights into the potential environmental consequences of their choices. Life cycle assessment (LCA) can provide the necessary fact-based sustainability insights. Robust LCA software solutions like SimaPro can help you quickly assess the environmental consequences of various design choices and make informed decisions that prioritize sustainability. Online modules like SimaPro Explore help you put sustainable data directly into the hands of product designers, empowering them to see, compare, and assess design variations with ease. Whether they have deep knowledge of LCA or not, SimaPro helps product designers to make sustainable decisions with confidence.
Sustainable product design with ease
Product designers face a tough challenge when it comes to improving the environmental impact of their products. LCA is a specialized field that requires in-depth knowledge and time, which designers don't always have. At the same time, the turnover time to request an LCA from outside the design department delays timelines and hinders the creative process. SimaPro Explore facilitates the collaboration between LCA experts and product designers. Once the LCA expert sets up the Explore project, product designers can quickly generate LCA results independently.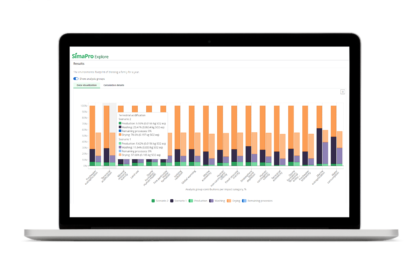 Focused on easy modeling and actionable decision-making, SimaPro Explore provides quick insights into the main contributors to environmental impacts. Changes to a design can be assessed quickly to determine what could be a more sustainable option, and the results of various designs can be compared side by side. With the ability to generate environmental insights on the spot, product designers have a powerful tool in their hands to effect real change.
PRé, the developer of SimaPro, used SimaPro Explore to create a bespoke tool for us to quickly and effectively measure the environmental impact of our products and concepts. This gives us the agility to make timely, science-based decisions as we consider the development of current and future products.
Isobel Filipova
Design Engineer – Sustainable Product Development at Owen Mumford
Identify environmental hotspots
In addition to providing overall environmental impacts, SimaPro Explore allows product developers to easily identify the environmental hotspots in their product designs. Knowing whether it's the material choice, manufacturing, or something else that causes most of the environmental impact gives the insight needed to actively make design improvements and develop product-specific guidelines.
SimaPro Explore puts LCA insights directly into the hands of product designers. This not only saves time and money but also puts your company in control of making sustainable decisions when it matters the most. By making changes early in the design phase, you can ensure that your products have a positive impact on the environment while meeting your business goals.
Find the right SimaPro plan for you
Start applying ecodesign principles and create products with sustainability in mind with SimaPro. Discover our plans for business or use the product finder to find the plan that meets your needs.