LCA insights to design better next-generation hardware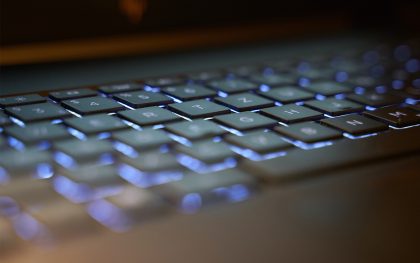 Challenge
Financial software and media company wished to conduct a cradle-to-grave LCA of its customer hardware equipment, consisting of two LCD flat panels, a small security device, and a keyboard. Because the hardware is an important part of their professional service, the company takes previous environmental impact results into account when designing new hardware models.
Since the latest LCAs in 2010 and 2011, new customer hardware had been released, and it was time to see how the environmental performance of this new hardware compared to the previous model from a life cycle perspective. The company opted for a cradle-to-grave study, looking at the impacts of all life cycle stages from raw materials extraction to end-of-life.
Solution
PRé modelled and analysed the environmental impacts of hardware in SimaPro, providing access to data about global warming impact and five other impact categories. Where possible, we collected data from the primary suppliers as well as from the company's facilities. If primary data was not available, secondary or proxy data from databases in SimaPro was used instead.
The investigation included all life cycle stages of the systems from cradle to grave, tracing all energy and materials used all the way back to the extraction of resources. With cradle-to-grave study boundaries, the study includes raw material extraction, pre-processing, assembly, distribution, use, refurbishment, end of life and all necessary intermediary transportation links. While the company was primarily focused on global warming impact, five additional impact categories were examined as well. With SimaPro models, screening for additional impacts required minimal additional effort and easily allowed the company to gain a fuller picture of overall environmental impacts for its products.
As a result, it became clear that the new customer hardware achieves a solid lifetime CO2e reduction. The monitors, although larger than the previous version, consume much less energy during the use phase and meet EPA Energy Star requirements, leading to a 44% reduction in CO2e.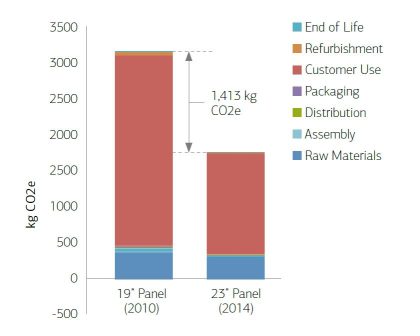 Benefits
Confirmation that the updated models provide environmental benefits compared to previous product models
Insight into the life cycle emission hotspot of company's customer hardware and identification of potential areas for improving the environmental performance of the next generation of products
Highly transparent databases that can be modified to continue to represent current conditions in the company's supply chain.
Model parameters to quickly and efficiently analyse different use case scenarios for the electronic equipment.
Life cycle emission hotspots that are easy to define, analyse and interpret thanks to analysis groups and intuitive graphics. This also helps with identifying potential areas for improving the environmental performance of the next generation of products.
Thanks to this project, the company now has fact-based insights into both product differentiation and improvement opportunities. They have also gained a straightforward way to communicate their sustainability efforts to internal and external stakeholders.
This project helps us to gain more insight into the hotspots and the environmental performance of our hardware equipment. That way, we can improve existing products and design better next-generation hardware equipment right from the start.
Head of Sustainable Business Programs at financial software and media company