bAwear-score
bAwear-score is an online service for the environmental impact assessment of textile products. Powered by SimaPro, bAwear-score enables you to calculate, validate and communicate the environmental impact of textile materials and products. The online service brings transparency to the textile supply chain and offers insights that support informed decision-making.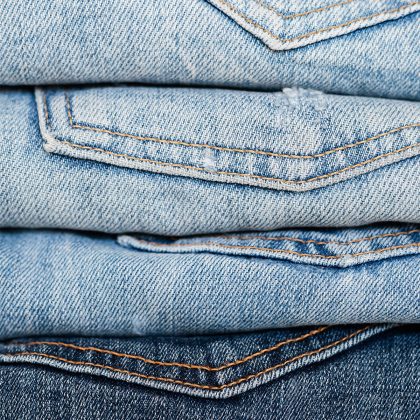 An easy way to use bAwear-score is through the YourQuestion app. This user-friendly application uses the SimaPro calculation engine via an API to offer credible sustainability metrics. For advanced calculations of the impact of the entire supply chain, YourScenairo (information-as-a-service solution) is available.
Why choose bAwear-score?
Sustainability metrics made easy
Sustainability calculation and reporting takes time, resources and expertise. bAwear-score combines the expertise of sustainability experts with the powerful SimaPro LCA software to allow you to independently calculate and report on the footprint of your textile products. The intuitive interface makes the tool simple to navigate – no LCA expertise required.
Transparency for the textile supply chain
The textile supply chain is under increasing scrutiny as customers become ever more aware of the environmental impact associated with textiles and clothing production. Moreover, textile companies need to conform to an increasing number of EU and national regulations. bAwear-score brings transparency to complex supply chains by providing insights on three crucial environmental indicators: carbon emissions, energy use and water use.
Cost-effective, reliable solution
bAwear-score is more cost-effective than a traditional LCA study, without undermining the reliability of the results. The SimaPro API connects bAwear-score to the SimaPro calculation engine and ensures robust and trustworthy results displayed directly in the app.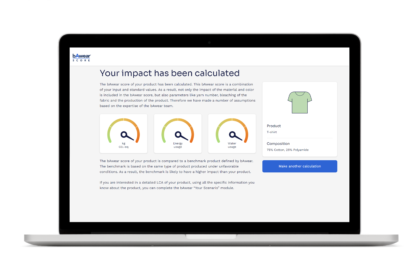 How it works
Sustainability insights in 5 easy steps:
1. Select your product category and product type
2. Indicate the material composition of the product
3. Select the finishing – color and dyeing technique
4. Indicate the production locations and final destination
5. Calculate the impact!
Traditionally, impact calculations are expensive, complex, and not very accessible. By combining our textile expertise with PRé's expertise in building best-in-class LCA software, we leverage our strengths to bring accessible, scalable solutions to the textile industry.
Michel Walstock
Co-Founder/Director at bAwear Score