Identifying the most sustainable packaging designs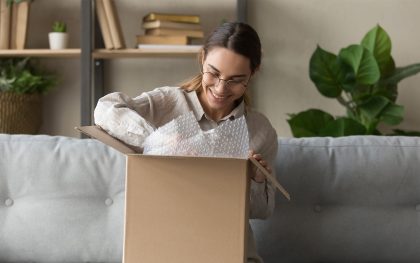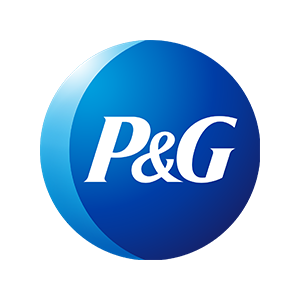 Packaging is a field with many options in terms of material and design – and often a field with substantial environmental impact. For Procter & Gamble, who are looking to reduce the impact of their packaging, PRé created a packaging assessment tool, powered by SimaPro.
About
As a global leader in products that make life's little moments easier, Procter & Gamble (P&G) are continuously searching for areas where they can have the biggest positive impact. As part of their goals for 2030, they aim to reduce our use of virgin petroleum plastic in packaging by 50%. The P&G packaging department is continuously working on reducing the impact of their designs.
Challenge
With ambitious goals for reducing the P&G environmental footprint, the packaging designers within P&G must have direct insight in the environmental impact of their packaging solutions. They need a tool that provides robust, trustworthy results, so P&G packaging designers can make sound decisions that reduce the environmental impact of their packaging.
Solution
In collaboration with P&G sustainability experts (LCA, packaging design), PRé Sustainability, the developer of SimaPro, created a packaging tool. It allows P&G to quantify and compare the environmental sustainability impacts of different packaging setups for P&G's consumer goods in different regions of sales. It provides science-based information that allows P&G packaging designers to select the most sustainable alternative. The tool also shows the performance of the product in the context of the circular economy, using the Material Circularity Indicator (MCI).
The basis of the packaging tool is a robust, transparent, fully parameterized life cycle assessment (LCA) model that takes the entire life cycle of packaging into account. The background data is based on the latest ecoinvent database. The tool was developed in close collaboration with P&G sustainability experts and is in line with their internal LCA policy and the latest methods.
The tool contains:
53 different materials including virgin, postconsumer recycled and bio-based (based on market averages)
17 processing steps
EU and US region functionality, which allows a user to switch processing, transport, electricity and heat recovery between the two regions' standards
Recycled content, recycling rate and recyclability
The latest consensus methods from the European Commission
Carbon uptake credits, GHG emissions due to land-use change, and climate change models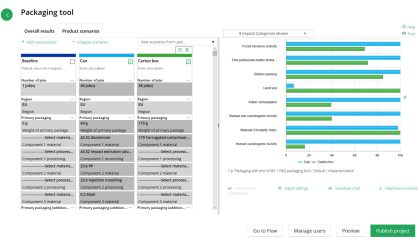 P&G packaging designers can select the relevant materials and parameters for each packaging component on a simple, user-friendly interface. Then, the tool calculates LCA and MCI results with one click. It allows users to compare different packaging solutions and to understand which processes contribute the most.
Benefits
The tool provides robust and transparent results about the environmental impacts of various packaging options.
The results generated by the tool are in line with LCAs done at P&G. This testing and validation gives the tool the credibility at P&G to make a difference.
The model and tool database can be extended to allow comparison of complete or partial packaging systems that use other materials. These materials can be market average or not (for instance, materials that are feedstock-source specific, process-specific, or supply-chain specific). Such materials can be added to the model on the fly, although further collection of primary data may be necessary (for instance, in collaboration with suppliers or other industry partners).
Learn more
Would you like to learn more about the packaging tool or to see how it works in practice? Do not hesitate to contact us for a live demo.
The development of the packaging LCA tool was an excellent example of true collaboration (experts working together on both sides) that resulted in a practical screening tool that is guiding P&G packaging designers throughout the world towards making sustainable choices in the design of packaging for fast-moving consumer goods.
Joost Dewaele
Senior Scientist at Procter & Gamble