Create with SimaPro
SimaPro is the beating heart behind a range of sustainability tools. With SimaPro on the backend of your solution, you can scale up the use of reliable sustainability metrics, enhance your software products, and embed sustainability throughout your entire organization. Rather than developing an LCA solution from scratch, you can rely on SimaPro's robust and transparent calculation engine, which is built on over 30 years of LCA expertise. Explore the various possibilities to create – independently or in collaboration with us – sustainability solutions, powered by SimaPro.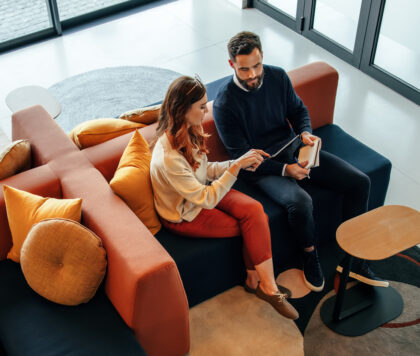 Tailored configurations
Quick sustainability insights to guide your daily work
Configure one or more SimaPro online modules to create a tool that is tailored to the needs of your project or organization. The configuration can be done by an LCA consultant from PRé or by your in-house LCA practitioners. The benefits? Low set-up costs, sustainability insights tailored to your needs, and a user-friendly experience.
PRé, the developer of SimaPro, used SimaPro Explore to create a bespoke tool for us to quickly and effectively measure the environmental impact of our products and concepts. This gives us the agility to make timely, science-based decisions as we consider the development of current and future products.
— Isobel Filipova
– Design Engineer – Sustainable Product Development at Owen Mumford
Custom tools
Drive sustainable change throughout your entire industry
With SimaPro-powered custom tools, you can make sustainability metrics accessible to your clients or even your entire industry. Our partners (sector organizations, LCA practitioners, and consultants) create sector-specific sustainability tools independently or in collaboration with us. We ensure that these web tools are user-friendly and easy to use even without specialized knowledge of life cycle assessment.
The Flori Footprint Tool is our first step in developing online tools, and showing that we are "powered by SimaPro" gives our customers the confidence that they can rely on the results. Combining our specialized sector knowledge with PRé Sustainability's general knowledge means we can develop our solutions faster and with more confidence.
— Rick van der Linden
– Manager Software Development and Senior LCA Specialist at Greenhouse Sustainability
Enhanced software
Enrich your software solutions with environmental data
You can connect SimaPro to your existing software products to enhance them with environmental impact calculations. By providing real-time sustainability insights, you empower your clients to make timely, informed decisions – for example during the product design stage or the sales process. Read more about our partnerships with Autodesk and Tacton to learn how we made environmental footprint data, calculated by SimaPro, available in their software solutions.
Working with PRé Sustainability and through the SimaPro API capabilities, we were able to connect our Autodesk design tools to SimaPro LCA capabilities easily, and bring sustainability directly in the designers' environment, scaling expertise and impact.
— Zoé Bezpalko
– Senior Sustainability Strategy Manager, Design & Manufacturing at Autodesk
Software integrations
Embed sustainability metrics throughout your organization
To truly embed sustainability throughout your business strategy and daily operations, you can use the data from internal systems like ERP, PLM, and data warehouses as input for a universal LCA model. SimaPro will calculate the environmental impacts and return the results into user-friendly dashboards that guide the decision-making in manufacturing, sales, marketing and more. Together with system integrators, we make it possible to unlock the full potential of your data.
Get started today
Would you like to explore the possibilities to create SimaPro-powered tools, enhance your software products, or integrate environmental calculations in your IT infrastructure?