What's new in SimaPro 8.3
In the release of SimaPro 8.3 we offer several updates of databases and impact assessment methods. Additionally, three brand new elements are included – AGRIBALYSE, Aware and EPS 2015 – and this article aims to introduce them shortly.
By Katarzyna Cenian, Analyst at PRé Sustainability
We're happy to announce the release of SimaPro 8.3. See below the summary of the brand new elements that have been implemented, as well as additional updates.
AGRIBALYSE
The French Environment and Energy Management Agency (ADEME) has been joining with several agricultural institutes in order to  develop the AGRIBALYSE® program. It provides since 2014 a public and high quality LCI database and consensual methodology for the main French agricultural products. About 140 LCI datasets for arable, horticultural and livestock products have been produced, as well as many feed and other "supporting LCIs" (fertilizers, machinery etc.). The background processes are linked to copies of ecoinvent 3.2. We hope that those data will contribute significantly to support eco-design and eco-labeling projects in France and by extent Europe, supporting evolution towards more sustainable food systems.  
For implementation on SimaPro 8.3, the following products are included in this database:
Plant products total: 25 product groups
Annual crops
Durum wheat, soft wheat, sugar beet, carrot, rapeseed, faba bean, grain maize, barley, pea, potato, sunflower, triticale
Forage/grassland
Grass, alfalfa, silage maize
Fruits and vineyard
Peach, apple, cider apple, wine grape
Special crops
Rose, tomato, ornamental shrubs
Tropical special crops
Coffee, clementine, jasmine rice, mango, cacao, palm fruit
Animal products total: 14 product groups
Cattle
Cow milk, beef cow
Sheep
Sheep milk, lamb
Goats
Goat milk
Poultry
Egg, broiler, turkey, duck for roasting, fattening duck
Rabbits
Rabbit
Aquaculture
Trout, sea bass/sea bream
Pigs
Pork
You can find supporting documentation on the project's website. Please note that this database is available as a separate download.
Aware
In the world of numerous impact assessment methods, consensus-building movements are always welcome. For global warming we agreeably follow the IPCC reports (well, with small adaptations) but in other impact categories LCA community lacks global guidance and UNEP-SETAC Life Cycle Initiative aims to fill this gap. For water depletion, WULCA (Water Use in LCA) working group was set up in order to:
"provide practitioners, from both industry and academia, with a coherent framework within which to measure, assess and compare the environmental performance of products and operations regarding freshwater use"
The outcome of the task is AWARE – a newly developed, consensus impact assessment method for water footprinting. The methodology behind differs from other water scarcity indicators available in SimaPro: on basis of Available Water Remaining after the demand has been met, it describes the potential of water deprivation for other users. Importantly, the users are both humans and ecosystems.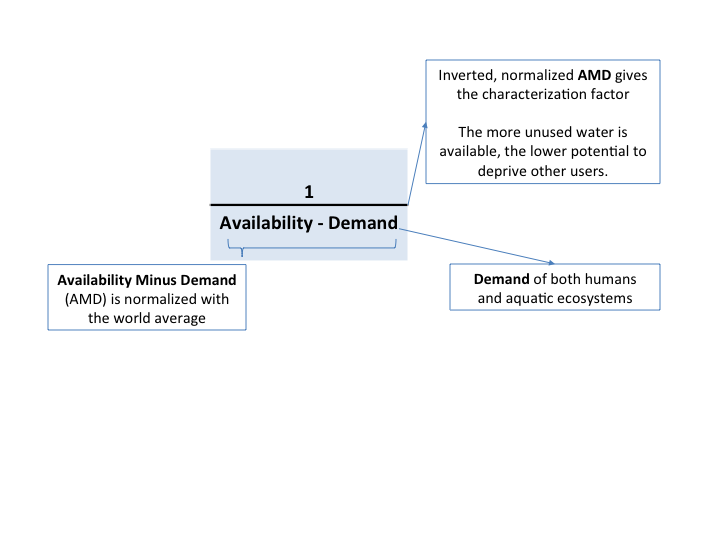 AWARE differentiates between agricultural and non-agricultural water use, which is another novelty, not yet supported by the inventory. Therefore, in SimaPro only the unspecified characterization factors are implemented but for users that are willing to adapt the inventories, a CSV with full version is available.
The method is also endorsed by the Joint Research Center and will eventually become a part of ILCD recommendation.
EPS 2015
Environmental Priority Strategies system is not an entirely new concept to SimaPro users, impacts assessment method EPS 2000 has been available in the software for over a decade. The changes in the new version are so extensive, EPS 2015 is implemented as a new, separate method.
Number of impact categories (called state indicators in EPS system) increased from 13 to 24 and the underlying data, like global warming potential of substances, have of course been updated since 1999. What remained unchanged, are the main principles behind the system and its intended application – supporting product development by monetarizing the environmental damage caused by use of certain materials and processes.
Two versions
The method is provided in two versions – 2015d and 2015dx. The first includes the climate impacts from secondary particles, in the later these impacts are excluded. Based on the recommendation from UNEP-SETAC Life Cycle Initiative, it is advised to use EPS 2015dx (impacts excluded) by and apply EPS 2015d (impacts included) by the experts "understanding the underlying concept". You can find more information on the EPS website.
Thoroughly implemented updates
In order to offer SimaPro users thoroughly implemented, most up-to-date impact assessment methods, the consensus water scarcity indicator has been added and the monetarization method in SimaPro has been refreshed. In addition, ILCD 2011 Midpoint+, Greenhouse gas Protocol and a number of other methods have been updated. For full details, please refer to the 'What's New is SimaPro 8.3' manual.
Furthermore, we continue to closely follow the development of methods like USEtox 2, Recipe 2016 or IMPACT World+, which you can expect in SimaPro in later releases.
Back to overview